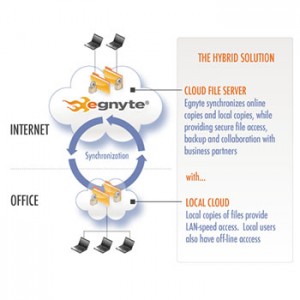 Recently the outages that occurred in Google, O2 and Blackberry are excellent examples of how businesses would suffer if depending entirely on the public cloud for their storage needs. Instead, both small business and enterprises can opt for hybrid cloud solutions provided by reputed cloud storage service providers.  Egnyte Hybrid cloud is one solution providing a much needed hybrid cloud storage platform for business users.  The data storage facility is provided within the company network space in the form of a private cloud.
Egnyte ensures that business specific data and files are stored in the public cloud and a copy of the most critical data and files are stored in the private cloud. In case of accidental outages, a snap shot of the small business critical and enterprise business data would be available in the local private cloud storage created by the hybrid service provider.
The hybrid cloud solution enables the business users to access data through a number of devices including tablets and smart phones.
By choosing the Egnyte hybrid cloud solution, small business and enterprise wide business users have the flexibility and ability to obtain their data back minutes. The solution also increases collaboration among a globally spread out workforce in an effective manner.
Article by Scott Huotari, President CCSI, Google | LinkedIn