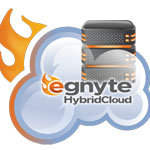 There are three major classes of cloud computing. The consumer focused products such as Dropbox and SugarSync. There are also enterprise class solutions such as ones offered by Rackspace or Amazon Web Services. There is a third alternative that combines the best of both such as the Egnyte HybridCloud.
Should you set up your company IT services on a public cloud with flexibility and easy access but security concerns? Should you set-up your business on your own private cloud on your own servers and behind your company firewall?
Egnyte HybridCloud
Many companies today are opting for the Egnyte hybrid cloud which gives the file sharing flexibility of the public cloud with the enterprise level security required by medium and larger sized businesses. The Egnyte HybridCloud acts as a secure online hard drive that provides continuous file backup, data storage, file sharing, synchronization and mobile device access.
What is hybrid cloud computing? In a hybrid cloud you have files stored locally within your network for fast file access, and then leverages the cloud to work as a single environment.  The Egnyte Hybrid Cloud provides the easy to manage interface that allows for easy and safe IT management.
Why use HybridCloud Computing?
HybridCloud technology: Combines the speed and data security of local data storage with the full accessibility of the cloud without the restrictions of using slow VPNs.
Automatic synchronization: Access data from any location and from any type of device. Data is automatically synched keeping your multi location workforce up to date with the same information.
Secure IT administration: Control user access permissions and access audit reports from a central location. Data is encrypted during transmission for better security.
Article by Scott Huotari, President CCSI, Google | LinkedIn