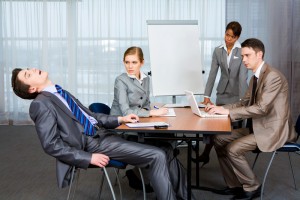 Looking to increase employee productivity in the workplace? It may be as simple as factoring in for your employees' natural circadian rhythms. Understanding their personal peaks and dips in energy can help you create a more productive schedule and happier employees.
What is a Circadian Rhythm?
Take a moment to imagine you are one of your typical employees. You arrive at work around 8:00 a.m. or just before that to go grab a cup of joe before digging into work. A couple hours in, you've hit your peak performance for the day, just in time to take your noon lunch break. Once you come back from lunch, your energy begins to dip. Around 3:00 or 3:30 p.m., you might be headed back to the Keurig for another serving of brewed liquid energy. About the time 5:00 rolls around and you head home, you've suddenly got another small surge of energy to get dinner on the table (usually around 6:00 p.m.) before winding down and hitting the hay. These surges and dips in energy are created by the natural circadian rhythm.
Increase Employee Productivity – The Typical Pattern

Using this knowledge about the dips and peaks in energy can help you better arrange tasks throughout the day and plan strategic breaks.
8:00 a.m. – Lower focus and productivity, building up to peak
Around noon – Hit the peak and begin to decline
3:00 p.m. – The low point in the day, building up to another smaller peak
6:00 p.m. – Hit the second peak, begin to wind down for the day
Ideas for Using the Circadian Rhythm Pattern to Increase Employee Productivity:
Schedule lower-priority tasks for first thing in the morning and around the 3:00 p.m. dip and higher priorities around noon and 6:00 p.m. for those who work late.
Allow for 10-hour work days to incorporate both peak performance windows during the day. This means you'll get 8 high-performing windows during the week instead of 5.
Allow flexibility for those who want to work a little past lunch break to finish a project (if it's within the law).
Allowing for flex-time can accommodate the 6:00 p.m. peak when important projects need to be completed.
The Non-Typical Employee
There are those few special employees who just don't fit into the normal circadian pattern. These type of employees are great for business with long or odd operating hours (early risers make great baristas, night-owls make great swing or graveyard product stockers). Since their rhythm is different, allowing them to take emergency tasks that pop up around the time everyone else is dipping is another a great way to take advantage of their unique pattern.
For more ideas on how to increase employee productivity, check out our March Newsletter article on reducing distractions in the workplace.