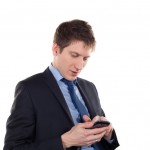 Today personally owned devices such as employee smartphones and tablets are routinely given access to company email. Sometimes they are connected directly to company networks creating network security issues.
Smartphones and tablets are great productivity tools. What happens when your employees bring their own hand held devices to use at work. Employees using their own hand held devices can save the company money. This new BYOD (bring your own device) opens up security risks.
Employee Smartphone Risk
These employee smartphone devices are really powerful computers that are easily configured to access company and client data. Once hooked into the corporate network, they can be used to access data and sensitive systems. If these are lost or stolen, then you have easy access by unauthorized users to this confidential data.
Security Tip: Access must be limited to users that the organization recognizes and trusts.
These devices can be a source for attacks on company systems. The main threats companies face are attacks from viruses, worms, spyware and spam, to say nothing of phishing scams.
The number of apps on any smartphone or tablet is much greater than the typical desktop computer. Companies have little control on what employees place on their personal devices. Malware can be infect the device from applications, email, photos, text messages and even a connected PC. The smartphone or tablet needs to be secured against being compromised or spreading infection if it connects to other computers.
Take time to educate employees on procedures to follow for setting up access and what to do if their smartphone or ipad is stolen.
See also IT Risk #1 Wrong Access Levels Assigned to the Wrong People
Article by Scott Huotari, President CCSI, Google | LinkedIn