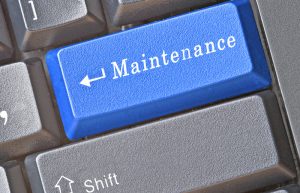 As with our lives, routine maintenance and cleanup is important for the health of your PC. Thankfully automatic maintenance for your PC is built into your Windows platform with a few customizable settings to make them convenient.
Automatic Maintenance for your PC
Your computer's software updates, security updates, virus and malware scans, disk optimization and other diagnostics are currently set by default to run at 2 AM if you have Windows 8 or 10.
You can manage this tool in Control Panel > System and Security > Security and Maintenance or just search for it by typing it into the search bar. You can expand the maintenance section and click on the link to change the maintenance settings (time and whether or not it can wake your computer).
Storage Sense
Storage Sense was included in the Creator's Update in Spring 2017 under Settings > System > Storage. You can toggle Storage Sense on or off and customize a few settings by clicking the link "Change how we free up space".
Schedule Disk Cleanup
No need to reinvent the wheel – Disk Cleanup tool still works great and can be run manually or scheduled to run regularly.
Another option would be to download CCleaner, which gives you more customization options. There's a free version or a paid premium version for more advanced options which can also help clean up your programs and web browser. CCleaner can be automated using the Windows Task Manager.
Disk Defragmenting
Do you remember when you had to defragment your computer when things started running a bit slow? Thankfully, defragmenting your computer isn't really necessary anymore, and actually may cause unnecessary wear and tear on your drive. It's automatically disabled on Windows 7, 8 and 10 if you have a solid state drive (SSD) and enabled if you have a traditional hard drive.
Other Windows Updates – Automatic Maintenance for Your PC
Newer versions of Windows practically force download and installation of updates. While you can't effectively put these updates off indefinitely, you can change the active hours on your computer in the control panel so that they happen at a more convenient time and not when your last-minute assignment is due at work.
Back it Up
Backups are important if your drive crashes. Consider using a backup service and, while they can work, try to shy away from using cloud services to do this.