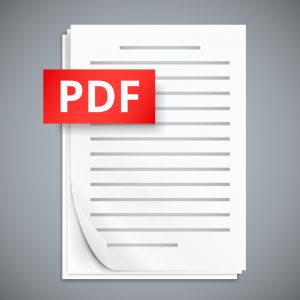 PDF files are an essential part of doing digital business. There may be times, however, when you want to edit a PDF without Adobe Acrobat because you don't own a license to use the full version. There is an easy and FREE way to edit a PDF without Adobe Acrobat. It's through Google Docs and here's how you do it.
How to Edit a PDF Without Adobe Acrobat
First, you'll need to have a google account, which most people do. If you don't, you can sign up for one for free. Once you've established an account, open up any browser and login to Google Docs (www.drive.google.com)
Click on "New" on the Google Docs page and upload your file to the drive.
Once the file is uploaded, in the main view, right click on the file and select "Open with", and then "Google Docs." A new tab will open in your browser with editable content.
You can save your changes on the Google Docs drive, or you can also choose to download and safe the file back onto your computer as a word processing document to edit and save as you please.
It's that easy! You can also perform this process from your smart phone using the desktop view, however, it's a bit of a hassle, so it's best if you can get to a desktop or laptop computer.
Looking for more PC tips and technology updates? Check out our blog. CCSI delivers network and technology solutions for small- to medium-sized businesses around the Vancouver/Portland area. For more information on how we can help, contact us today!