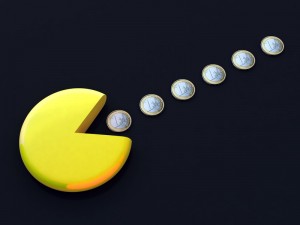 Pac-Man Turns 35 – Appreciating Evolving Technology
In the spirit of appreciating evolving technology, it's worth noting that a blast from the past, Pac-Man, turns 35 this month.
Those who grew up in the 80s or earlier can truly understand and appreciate just how fast technology changes and evolves. In the first decade of its release, this simple 8-bit game brought in over $1 billion net… in QUARTERS. This means that the Pac-Man game was played more than 4 BILLION times in the first 10 years, or an average of 1,095,890 times per day from across the globe!
Pac-Man Turns 35 – Other Fun Facts
Pac-Man was first released in Japan in May 1980.
Pac-Man became available on almost every gaming platform ever built.
Pac-Man was originally created to draw a female audience into the traditionally all-male audience arcades (there were no home gaming systems back then.)
It's possible to get a perfect score of 3,333,360 by eating every dot, fruit and ghost on the original 256 levels. A perfect score pulls up a "kill screen" and does not allow any further play on the game. You quite literally beat the game.
Pac-Man is available to play in two Swedish airports, with all proceeds donated to the Red Cross operations.
Pac-Man Lite is available for FREE on iOS, featuring the original 256 levels.
Google has made it possible to re-live the original thrill while you work at your desk (though break time would probably be the most appropriate time to try it out). First featured as the "Google Doodle" back in 2010, the Pac-Man game is still available here for those wishing to take a stroll down memory lane, or for the young whippersnappers, perhaps experience a piece of important technological gaming history for the first time.
Pac-Man turns 35, yet remains an iconic, historical symbol of how far we've come with technology.
CCSI is constantly evolving to meet the technological challenges of today's businesses. Contact one of our team members to see how we can support your business' technological needs.