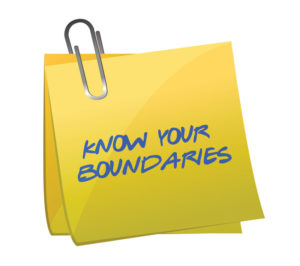 Just like with friendships and marriages, setting boundaries in the workplace is important for a successful businessperson. Communicating clear boundaries up front can go a long way to preventing potential conflicts and also promote a positive environment of mutual respect among clients and colleagues.
3 Ways to Set Boundaries in the Workplace.
Set Boundaries with Time. Communicating time-related boundaries up-front will help prevent a confrontation with a supervisor about working overtime or during a time when you have other previous commitments
Keep Your Work at Work. The nature of some jobs may prevent this but in many cases, keeping your work at your workplace helps prevent burnout and supervisors or clients taking advantage of your willingness to work "extra". Taking your work home can cause resentment and burnout if it interferes with personal or family time. This includes answering work-related emails and phone calls.
Set Boundaries with Relationships – Getting drinks or dinner after work with a group of your colleagues can be a great way to improve morale in the office environment, however, if you're spending a lot of time during lunchtime or outside of work with a colleague, be sure to set clear boundaries so that there are no awkward misunderstandings.
What if Boundaries Are Crossed?
When boundaries in the workplace are crossed, it's important to address them swiftly and professionally to avoid damaging workplace relationships.
CCSI is a local computer networking and technology solutions company, serving Vancouver, WA and Portland, OR small- to medium-sized businesses. We provide companies with customized networking solutions and managed services to promote better workplace productivity and happier employees.