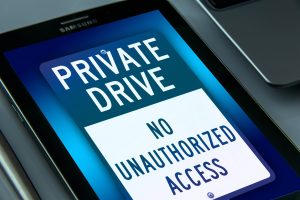 Our cell phones are some of our most important electronic devices because we use them daily to check our messages, emails, financial accounts, and stay connected to our family and friends. A mobile phone usually contains a high volume of personal data and  information ranging from photos and videos to access to our banks and financial information. It's important you take mobile device security precautions to protect this information.
Most accounts with enhanced security system often use a two-factor authentication system, meaning they call or text you a security code that they then use to verify your identity. Because of this, it is very important to take certain mobile device security precautions to prevent compromising your accounts.
Four Simple Mobile Device Security Precautions

Never leave your device unsecured. To ensure that your device is secure at all times, you should never leave it in a place where it is vulnerable to theft or use without your authorization. This includes sharing your device with others.
Set a passcode or fingerprint for use. You should also make sure you set a unique pass code to use the device. Most smartphones are equipped with fingerprint recognition software that verifies that you are the only user. You should enable this feature and use your fingerprint to log into certain applications like banks and money transfer apps.
Be careful about downloads and links. Be careful about visiting unsecured or potentially vulnerable sites as you can acquire certain malware that can be used to steal your personal information or identity. You should also be careful about clicking on links from non-trusted sites.
Enable or download applications for lost phones. If your phone is lost or stolen, there are several applications that will use your phone's GPS to help locate it. These applications can also shut the phone down so that it cannot be accessed until it is reset by you.
Follow these easy and helpful tips to improve your mobile device security.