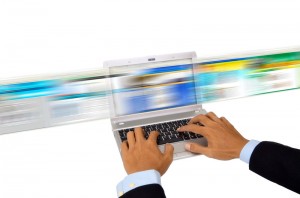 With today's fast-paced lifestyle, staying connected is pretty important. There are many types of Internet connections available, so what's the difference? Here's a short summery of some of the pros and cons for each of the major ways to connect:
Cable
One of the fastest connections available, ranging in price from about $25/mo and upwards of around $90/mo. This connection is ideal for about 99% of families or households who have simultaneous computer users. Cable internet can typically be bundled with other bills, like the phone or TV, and it's widely available in the city. Cable shares bandwidth with neighbors, though, which means that having a couple bandwidth hogs living nearby might slow down your speed.
ADSL (aka DSL)
This type of connection is an easy install through pre-existing hard phone lines in the home. Cost to connect ranges between $30 and $50 per month. This would be considered the second internet connection choice for households. Connection speeds for DSL are much slower than cable but are typically available in areas where cable is not available.
3G/4G Wireless Internet
Costing around $25-$125/mo, wireless (cell phone) internet is the third choice to consider for domestic use. It's becoming a more popular option but still not nearly as fast as a cable or DSL connection. Connecting via wireless internet usually requires use of a dongle device plugged into your computer. Internet access is available wherever you have cell phone service.
Satellite Internet
Satellite internet should only be an option to consider if you live in a remote area where the other types of internet connection are not an option. Cost to connect via satellite costs between $100-$300/mo but also requires expensive satellite equipment. Service is sketchy and can be affected by the weather. Avoid this type of connection whenever possible.