I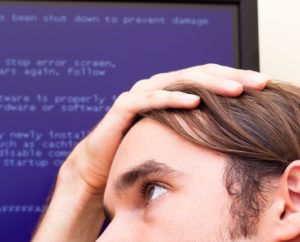 t's every computer owner's nightmare – your computer won't start or if it does start, you get stared down by the "Blue Screen of Death" or some other screen informing you that Windows won't boot. Before you call someone in your tech department, there are a couple things you can check:
Windows Won't Boot – Before You Call the Tech Department
Ask yourself if there is anything you've recently changed (installed a new driver for hardware, connected new hardware, or physically manipulated anything inside your computer case?)
If your computer won't start up at all, double check that your computer is plugged into the power source properly, your monitor is securely plugged into the tower, and if you recently removed the case to manipulate anything, that you didn't knock loose any cables inside.
If your computer powers on but you get a black or blue screen with a disk error or no bootable device message and you know how to access your BIOS, you can check to see if Windows is booting from the correct hard drive. If you don't see the drive listed, it's likely that you'll need a new hard drive and you should contact your tech department.
If your BIOS looks good, you can try to use the Startup Repair operation.
If the Startup Repair operation doesn't fix your issues, you may need to use the Windows installation disk or recovery disk to make the fixes.
If at any point you are uncomfortable with these steps or see an unfamiliar message on your screen when Windows won't boot, it's time to call the tech department for help. It's important to have your files backed up on a regular basis for scenarios such as this, but if you haven't backed up your files in a while, you still may be able to recover them.
Looking for small- to medium-sized business network support around Portland and Vancouver? Contact CCSI today to see how we can help!