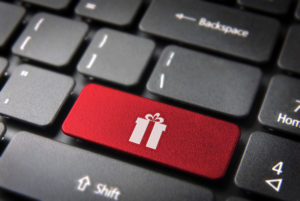 Black Friday and Cyber Monday are around the corner for holiday shopping. Are you in search of some techie gift ideas? Here's a short list of 2016 best tech gifts $100 or less to consider for this year.
Nine of 2016 Best Tech Gifts $100 or Less
iPhone Nomad Key ($20) – A simple lightning cable replacement to carry with your keys. Never worry about not having a lightening cable with you.
Tile Slim Tracker (from $30) – We all know that person who is constantly misplacing their phone. This is a practical gift they can appreciate. As long as the phone is within range of the Bluetooth, they'll be able to track down their phone with this device. It's super thin and can be carried easily in a wallet.
Roku Express (from $30) – For those who don't own a smart TV, this is the next best thing. Supports all major streaming services, plus has content channels and an easy-to-use remote.
Native Union Key USB Cable ($30) – A great keychain for those who are constantly asking to borrow a charging cable, available for both Apple and Android smart phones with a USB connector.
Skullcandy Ink'd Wireless Earbuds (from $49) – A great gift idea for the active person in your life, the battery on these earbuds can last up to 8 hours on a single charge. They're lightweight and make for easy cordless activity.
Amazon Echo Dot ($50) – A basic smart home product powered by Amazon's Alexa platform can call a ride from Uber, play your favorite tunes, or order that one thing you just ran out of with simple voice commands.
SteelSeries Arctis Gaming Headset ($80) – Great for the avid gamer in your life. Great sound quality, sensitive mic, and comfort all in one.
Amazon Fire HD Tablet 8" (from $90) – This Android based tablet is a great buy for someone who has never owned a tablet. Its processor is said to be decent enough to handle common tasks quickly. The experience is enhanced with a subscription to Amazon Prime.
Samsung T3 Portable SSD 250 GB (from $100) – Metal, shock-resistant and powerful encryption and password security, this portable SSD is a USB Type-C port that can work with Mac, PC and smart phones. Can come with up to 2TB of storage.
These are the 2016 best tech gifts $100 or less listed in this recent article, but if your budget is bigger, you can find some more fantastic ideas listed in that same article. Happy Holidays!