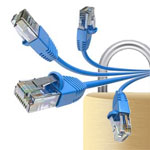 Network security over the past five years has become an increasingly important need and service for both small businesses and large corporations. This has especially included corporations and businesses that provide financial related services. As a result of increased online technology, mobile hackers now have better opportunities to infiltrate mobile application systems and websites.
Although most businesses today have an in-house IT support team, most are not fully trained and equipped to handle many of today's network problems. Because of this, more and more businesses are contracting outside IT companies to assist them. In most cases this arrangement has resulted in a very effective partnership.
One industry that utilizes outside network security services frequently is the financial and banking industry. This includes credit unions, credit card companies, money transfer centers and large banking institutions.
Network Security Tips
Because most of these businesses offer mobile financial applications for their customers, they often need iPad security services. This service is designed to provide customers added protection while they perform mobile money transfers and other online financial transactions. Some of the tips recommended for enhanced iPad security include creating a secure passcode and using a safe connection.
It might be hard to believe, but many iPad customers create passcodes that are very easy for thieves to steal and easy for hackers to decipher. Many of these same customers frequently use connectivity outlets that are not fully safe and secure. Because of this, many often get their iPad data stolen.
As seen from the above examples, enhanced network security is very important to both single individuals and companies. This ranges from individual iPad users to large corporations who want their iPad data securely protected.
Article by Scott Huotari, President CCSI, Google | LinkedIn