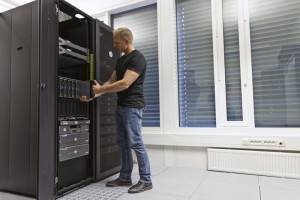 If your business is still using one of the estimated 12 million servers still running Microsoft Windows Server 2003 OS as of July 2014, this is your wake-up call. Many businesses have not yet started developing their plan to migrate to a new server and when July 2015 hits, they won't be ready.
Microsoft will no longer support Windows Server 2003 OS
What this means is that Microsoft will no longer create security patches, assist with technical support, or update the software or contents of the Windows Server 2003 software. They are essentially digging a 6-foot hole and burring this one. Those who are left still using this OS dinosaur will be left behind and scrambling to bring their business up to speed at the last minute. The migration process could take several weeks for some businesses, so it's best to start now.
Security Risks and Compatibility Issues
Security patches will no longer be created for this old operating system, leaving servers running this OS vulnerable to new cyber threats that present. The outdated operating system may also fail regulatory requirements for businesses who deal with sensitive information, and may have trouble running newer software or have issues with hardware/software compatibility.
The Fix
You essentially have two options; upgrade to Server 2012 R2 or hop onto the Cloud bandwagon. This is a great opportunity to evaluate your current set-up and make changes or upgrades. More efficient software and network organization can also make a huge difference in business productivity.
Need help with the process? Contact CCSI and save yourself the headache.