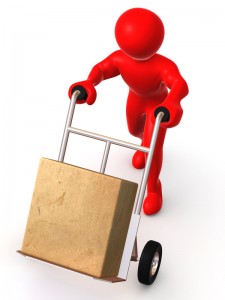 Moving your business to a new location is a great opportunity for a fresh start. It can also be stressful if you don't have things organized and ready. Here are a few tips to consider integrating into your moving plan to reduce cost and stress:
Take Photos of the New Office/Building – This will help you with planning out furniture arrangements.
De-clutter – Never pay to move items you are no longer using, don't need or may not have space for in the new place. Decide what can be sold and what just needs to be tossed.
Meet with Employees – Keep your employees informed about relevant moving updates. Tell them exactly what you'll be expecting from them during the transition. Good communication will curtail misinformation from spreading and reduce overall office stress.
Make a List of Venders – This includes moving companies as well as office set up (computer/networking, phone system, water delivery, internet, cleaners etc.). If you're planning to change vendors, also make a list of the current services you'll need to cancel after the move.
Gather a Team for the Day-Of – Designate reliable people to help you coordinate the move. You'll need people at both ends to ensure that your movers and employees have a go-to person for directions.
Consider using Business Relocation Services – CCSI has a team of experts who know how to organize a move! Whether you're needing someone to handle only certain aspects or the whole kit and caboodle, CCSI has your back. We also have great relationships with some of the best vendors to provide you with excellent customer service and pricing benefits. Call us today or fill out the quote request form for more information.