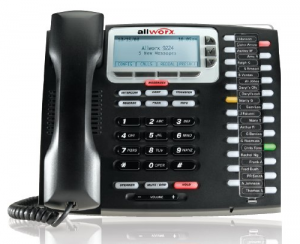 We've come a long way since the late 1800s "party line" telephone service was available; one where communities shared one line out to make their calls, and Busy Betty could eavesdrop on your gossip with Chatty Cathy. Most people these days own their own personal cell phone that's pretty much attached at the hip. Getting in contact with someone quickly has become easier than ever.
Businesses have also evolved to where a couple general phone lines in an office are just not enough to keep up with communication needs, but the cost of setting up individual lines for each employee can become expensive or unaccommodating. This is where a VoIP phone system can become beneficial for businesses who want each of their employees to have their own line, but an analog system is unable to effectively meet this need.
VoIP stands for Voice over Internet Protocol. Instead of channeling analog audio signals through the telephone company's line, a VoIP system translates the analog data into digital data which can then be sent over the internet, thus, averting any usage fees imposed by the phone company.
There are many ways to utilize VoIP, both for personal and/or business use. An adapter can be used with an already existing analog phone and hooked up to your computer. You can also place a call through your computer using the microphone and speakers. Probably the most practical solution for businesses integrating in a new line would be an IP phone, which plugs into your router and has the same look, feel and functionality as an analog business phone.
CCSI | Voice Service is proud to offer solutions built on the Allworx phone system, accommodating both analog and VoIP phone services, or a combination of both. Let one of our CCSI engineer specialists help you decide the perfect phone set up for your business.