We have all been there. You work hard to perfect your document at hand and then hit print, and nothing happens. Dealing with printer woes can be extremely frustrating and inconvenient. But most issues are very minor and if you know some helpful printer troubleshooting tips, you will be able to get your printer up and running in no time at all.
Three Printer Troubleshooting Tips You Should Know
Try checking cables and drivers.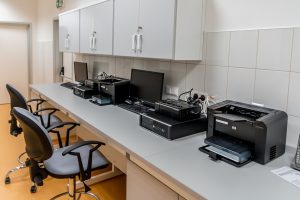 Many times, your computer will not print because a cable is loose, or a driver is not properly installed or may be corrupted. You should check all cables to make sure they are properly secured. If this does not solve the issue, you should try reinstalling your printer's driver. You can usually find the driver as a disk that came with your printer or find it on the manufacturer's website.
Make sure your devices are connected to the right networks.
Many printers will need to be connected to the same network as the device you are printing as is the case with a wireless printer. You should also make sure when you select print, you choose the right printer as all the printers on the same network will be available.
Make sure your wireless devices are close and in range.
If you are experiencing trouble with your wireless devices, make sure they are close enough to send and receive data and files. If your device isn't in range of your printer, it may cause delayed printing.
These are very common printer troubleshooting tips that you should first try if you are having trouble with your printer.