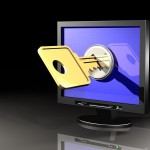 Small businesses today depend on Computer Technology to run almost every aspect of their companies. Given the stakes, it is critical to insure that your information technology infrastructure is protected.
Thanks to advances that have made information technology more powerful yet less expensive, even
the smallest business can enjoy capabilities – in everything from marketing and sales to delivery and fulfillment – that were once the sole domain of large corporations.
It is our experience that 90% of all small businesses have significant undetected system vulnerabilities. These vulnerabilities expose your business to downtime, data loss or unauthorized access to your company's critical data.
This is the start of a series of ten weekly blogs where we are going to discuss ten hidden information technology threats that face your business.
Risk #1 Wrong Access Levels Assigned to the Wrong People
It's just common sense: you restrict crucial information, such
as bank accounts and inventory access, to carefully designated employees. Yet many businesses have lost control of their network's user level access privileges, exposing vital company and client data to people without authorization.
One of the first steps toward security is to be sure the right people have the right level of access to appropriate applications and data. Network security requires provisions and policies to prevent and monitor unauthorized access, misuse or modification of critical data.
Should your IT systems fail, it's usually without warning – you're exposed not just to an IT problem, but to a potentially large business problem.
To get your FREE network assessment for not only network security access security, but a full assessment of your information technology systems. Call CCSI at (360) 944-5111 and schedule your network assessment by one of our senior network engineers.
Article by Scott Huotari, President CCSI, Google | LinkedIn