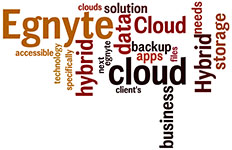 The Egnyte Hybrid Cloud is taking the mid-size business cloud market by storm! Founded in 2006, Egnyte is a newcomer on the scene, but has raised nearly $16 million in capital funding for the next frontier of data storage.
The Egnyte hybrid cloud separates itself from the traditional cloud concept by selectively integrating with other clouds and apps designed specifically for the business consumer. The data is stored within the cloud, but accessible and integrated smoothly into specific business apps.
Traditional clouds are simply data storage, whereas, the Egnyte hybrid cloud can move seamlessly through different formats and applications. Welcome to the next level of business data storage and processing.
Clouds aren't just for kids storing music and movies anymore. The advent of big businesses accessing the technology sector, and becoming more demanding of the performance abilities of their information technology, it was only a matter of time before the hybrid cloud became reality.
Looking to meet these needs, Egnyte currently serves over a billion files daily. Their software is accessible on Android, iOS and Blackberry. The files are still managed by a network admin, and offers customization depending on the client's needs. Egnyte is working with developers in creation of apps specifically tailored to individual client's industry needs.
Egnyte's efforts are leading the charge into the cutting edge of large scale commercial data storage. They're on pace to become a leader in what is undoubtedly going to be a wide open marketplace in the upcoming years.
Article by Scott Huotari, President CCSI, Google | LinkedIn