How to Create PDFs Using Word Documents
You've just finished creating a masterpiece of a document using Microsoft Office. It's everything you ever dreamed it could be and you know it's going to impress everyone that sees it. You go to submit it, sure of the inevitability of your future success. But then you see it. Your heart sinks and the highs of victory transform into the shadowy depths of despair; "PDF documents only"
Using Microsft Office
If you've got documents in Word, Excel, or even Powerpoint that you need to save as PDFs fear not, it's actually quite easy. Ahead, we'll go over some of the ways you can quickly convert any given Microsoft document into a beautiful new PDF.
The first and undoubtedly easiest way to do this is to simply save the existing document as a PDF. This will require you to have a fully-fledged and registered copy of Microsoft Office for desktop. Simply click into the "File" menu and select "save as". From here, use the dropdown menu, currently showing "word document (.docx)" and change the document type to "PDF (.pdf) and click save. And that's it, you've done it; a new window should appear showing your new PDF in all its glory. 
Using Something Else
Now let's speculate, only for a moment, that some people may not have a fully bonafide and registered copy Microsoft Word. They may be using a free version or even an alternative software. Despair not, you wayward souls, for even you can turn your hard-worked documents into pristine and legible PDFs.
The easiest and generally cleanest way to convert just about any text document into a PDF is to upload it onto Google Drive. Using Drive, you can convert the document into a Google Document, and then finally into a PDF. This method works best for simple documents without a great deal of formatting or specialized fonts or images. Think of it like making a copy of a copy, too much detail, and some things may get a bit fuzzy.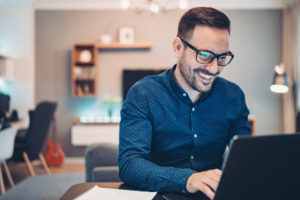 If you've got yourself a particularly complex document and if you create that document outside of the Microsoft ecosystem, there's still hope for creating a perfect, 1 to 1 PDF of this magnum opus. There are a number of third-party websites out there that specialize in doing exactly what you're looking for. Some are free, some require a subscription but nearly all will offer a high-quality solution. If you choose to go this route, be sure to do your research and select a site that is both reputable and experienced.
And speaking of reputable and experienced, Creative Computer Solutions, Inc has the skills and know-how to solve even the most stubborn of IT challenges. If you've got questions, CCSI is ready to help. Contact us today!