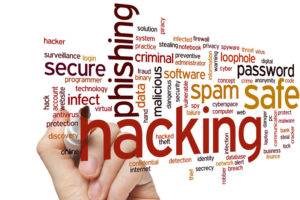 Hacking and rumors of hacking have been scattered all over the news and social media since the election came to a conclusion. No matter who you voted for, hacking is a legitimate concern for every individual or business plugged into the internet or other network. To top it off, there's been a new wave of fake Amazon delivery emails going out which can increase your risks of being hacked (or scammed!) Here are some basic tips to prevent hacking:
Four Tips to Prevent Hacking
Use advanced passwords and 2-step authentication-– This is a no-brainer but one that is commonly overlooked. Use passwords which contain upper case, lower case, numbers and if you can, symbols. Don't reuse your passwords for different logins. If you have trouble remembering passwords, you can use a password manager like LastPass so you'll only have to remember one master password. Always take advantage of 2-step authentication when possible.
Don't share sensitive information while on public Wi-Fi. Book your flights, rentals and accommodations from home.
Be careful what you put on cloud storage. While cloud storage companies will likely have secure servers, you must keep in mind that you're trusting your files to a third-party server connected to the internet 24-7. It's in their best interest to protect your files and information, however, if their security is compromised, so will all of your data.
Watch out for suspicious email. Always be suspicious of emails, attachments, and links that you aren't expecting. Some attachments may contain malicious coding meant to hack your computer remotely, or the email may contain links to look-alike sites to try and capture your private information ("phishing"). If the link has been shortened, you can plug it into this site (URL X-Ray) to find out the full hyperlink.
Along with these tips to prevent hacking, you should always make sure you've installed the latest updates and use a reputable antivirus program.
Looking for affordable managed services in the Portland / Vancouver area? Contact CCSI and we'll help you get started today!