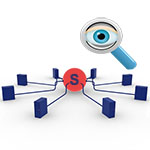 Due to the declining economy, many companies today are opting to have a managed services contract with an outside IT company instead of maintaining an internal staff. This is a trend expected to continue for at least the next five to ten years.
Issues related to declining sales and revenue numbers have forced many companies, both large and small, to seek a more affordable option in terms of their IT related needs and functions. A number of local companies have recently lain off a large number of full time employees.
When it comes to staff reduction, unfortunately the information technology department is one of the first areas to be downsized. This leaves a business without any type of efficient IT technical support. Many businesses are opting for a managed services contract with an IT services company. A managed services contract can be a cost effective and efficient way to monitor in-house networks twenty fours a day.
Having an outside company manage all IT related functions can be a very affordable and effective way to monitor computer networks and troubleshoot any potential problems. Depending upon the size of the network and company, outsourcing IT support duties can typically save anywhere from fifty thousand to two hundred thousand dollars annually. This savings primarily comes in the form of not having to pay full time salaries, overtime bonuses or healthcare benefits.
While outsourcing IT services may not be the perfect solution for every company, it is a great option however for companies looking for an affordable alternative for handling their IT related functions.
Article by Scott Huotari, President CCSI, Google | LinkedIn